nikcufecin blog
Sunday, April 25, 2004
Went back to Harriman State Park for some hiking. Same parking lot off rt 106 as last week but this time, we went north.
Ran into a family of deer. We only usually get a glimpse of their tails jumping over the ridge while we're on the trails. (or dead on the side of the road).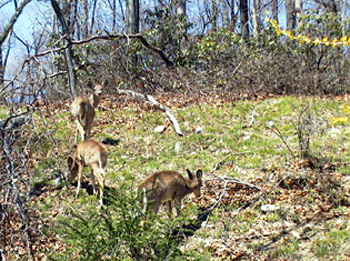 The mountain is starting to bloom but still kinda naked.
It was a clear day so the view was great.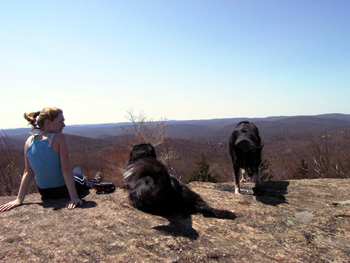 Iggy & Sasha even went swimming (actually wading).
I guess we need to take Sasha canoeing to see if she can swim.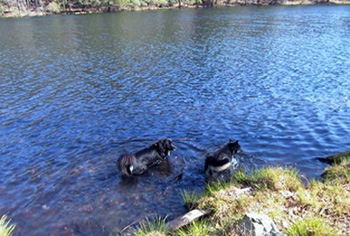 On the way home, we found a bunch of ticks on the dogs but they were dying or dead. It's great to see the Frontline flea & tick protection in action. (that stuff is expensive but well worth it).
Thursday, April 22, 2004
It's me and Sarah's 3rd wedding anniversary today.

How Time Flies....

I still haven't scanned in all the wedding photos and stuff.
Monday, April 19, 2004
Just finished reading the
DaVinci Code
by Dan Brown.

I must say this book was VERY hard to put down. Great Read.
Sunday, April 18, 2004
Hiking at Harriman State Park with Sarah & the Dogs.
Tried a new trail leading to Tom Jones Mountain and Lake Skenonto.
Found a nice hikers' shelter on the trail.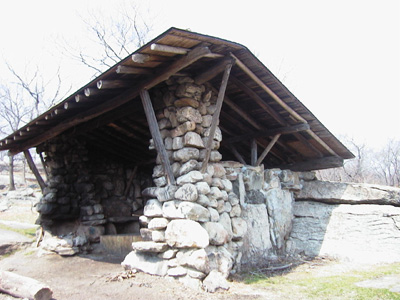 This is a picture of the lake.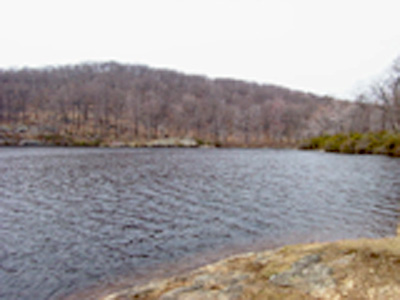 The lake is only accessible on foot so it was virtually empty.
It was a sunny breezy day, perfect for hiking.
We actually got our first sun tans/burns for the year.
Friday, April 09, 2004
R.I.P. Gladys Smallman.... 1907-2004


Tuesday, April 06, 2004
Spent last Sunday at a great pub in Tribeca called the
Blind Tiger Ale House
with Steve Z, Eric C and Somoza.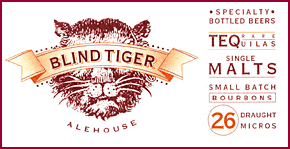 We got there at noon and sat at the window table drinking some mighty fine craft brews. This pub is really cozy and the other punters were all easygoing beer freaks.
The Best Beers of the Day included...
1)
Dogfish Head
'Randall-ized' 90 Minute IPA
Extra hoppy IPA that is pulled thru a "Randall-izer", which is a canister filled with hops that attaches to the keg. Great Article on "Randalization" process in
NY Times
(Reg Required)
2)
Flying Dog Road Dog
Nice and dark, rich beer.
3)
Rogue
Chocolate Stout
This was my first chocolate stout. Surprisingly mellow and smooth with a very chocolatey aroma.
We had quite a few more beers other than the above but it was all quite a blur.
I definitely want to get into home brewing and educate myself on the excellent beers out there.
Overall, a great way to spend a cloudy and dreary sunday.
Based on the last post, it was a year ago that I set this up and forgot about it.

I'm going to try to post the silly experiences of day to day life in here for prosperity purposes.