nikcufecin blog
Friday, May 28, 2004
Manhattan Sunset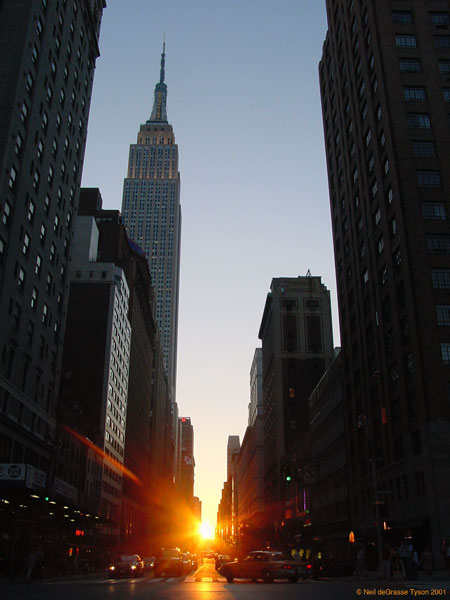 Tonite, the sun will set precisely on the centerline of every street, kinda like a huge urban Stonehenge.
Thursday, May 27, 2004
Cool
Mat
for the Geek Home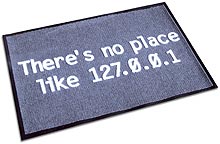 Wednesday, May 19, 2004
R.I.P.
Elvin Jones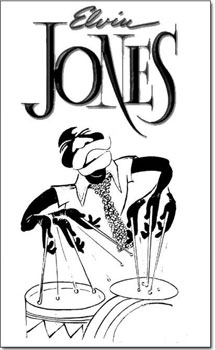 I'm glad I got to see him at the Blue Note last year (w/ Cecil Taylor).
Elvin Jones was a jazz drummer who was part of John Coltrane's most notable and legendary quartet - they recorded a lot of great albums together.
He also played with Duke Ellington, Charlie Parker and Miles Davis - i.e. the greatest jazz players of all time.
He was 76 years old.
Carb Wire
, a low carb blog.
I was getting gassed too quickly when I was working out from the lack of carbs when I was doing the low carb thing, so I quit.
However, my eating habits have gotten much better from all the nutrition related reading. i.e. Sugar and flour does more damage to the human body than cocaine and heroin.
I would reccomend throwing yourself into ketosis if you don't exercise much and need to loose a few pounds.
Tuesday, May 18, 2004
I'm feeling a bit like Wile-E-Coyote...

Went back to the homebrew shop in Flushing, NY to get a new glass carboy and beer ingredients.

This time, I'm trying out a India Pale Ale.

This time, I'm putting the entire carboy in a bucket.

This time, I'm using a rubber stopper with a blowout hose after I pitch the yeast. (instead of a fermentation lock).

This time, the carboy won't explode and release 5 gallons of sticky beer wort all over the kitchen.

...Hopefully.
Monday, May 17, 2004
The Magnificient Homebrew Fuckup!

FINALLY finished cleaning up 5 gallons of sweet, sticky and now stinky, partially fermented beer wort from all over the kitchen.

I swear the book said that if I had a 6.5 gallon carboy, an airlock will suffice during the fermentation process...

Ooops, I guess not.

I'll use the hose vent next time.

Ya Live n' Learn.

p.s. - Thanks Sarah for all the help and most of all, the understanding.
Hey Sarah.
If I had a billion dollars...
I'd buy you a boat.
an
Aussie Rules
boat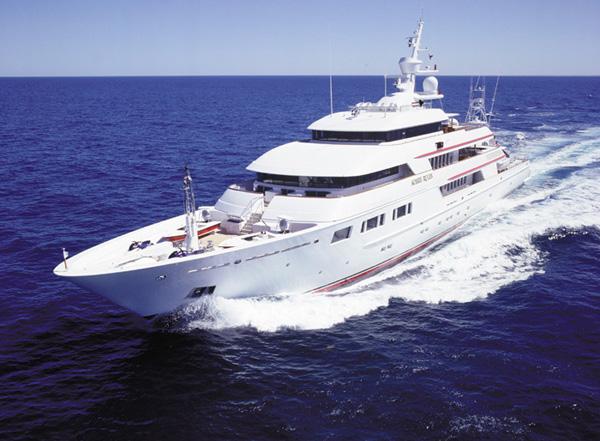 Sunday, May 09, 2004
Last day, we had some breakfast and pushed out of Key West.
This barracuda was hanging out by the pier.
We had caugt one just like this yesterday on the boat.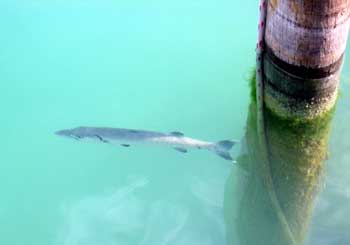 This is a shot of the road out of Key West.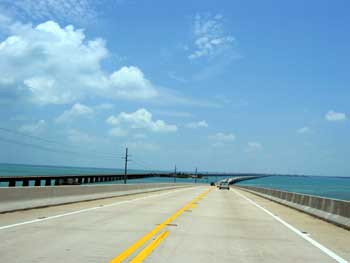 Had lunch in South Beach at a Mexican joint on the corner of Washington and Esplanade. It was the best Mexican food I had in quite awhile.
Took the scenic route up A1A into Ft Lauderdale.
Overall, it was a quick but memorable weekend vacation.
Saturday, May 08, 2004
Today we went out on the boat to go into the "backcountry" of Key West.
This family was hanging out (naked) on the sandbar in the middle of the ocean.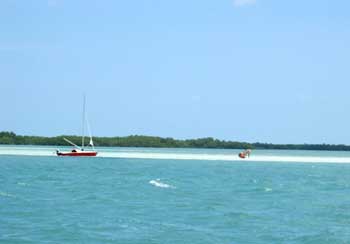 Forgot the name of these huge birds.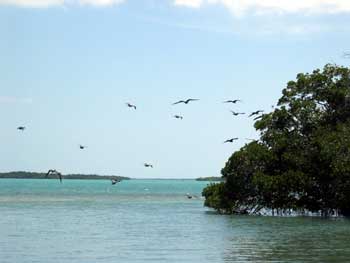 Sarah and Etsuko at the sand bar near one of the islands we hung out on (Ari in the background). These "islands" are created by mangrove trees that catch root on a sand bar. They protect the Keys from erosion and create habitat for various marine life.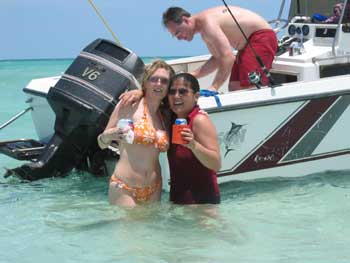 We went exploring in the "Emerald Channel" in the middle of this island. This was a channel/river that goes thru the mangrove island. The tide currents were pulling us thru this channel - it was THE most coolest trip. (Photos coming shortly).
This houseboat was hanging out in the middle of the ocean.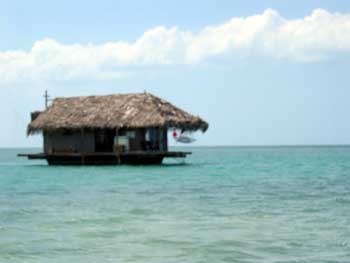 We pulled into a harbor and into a bar called the
Turtle Kraals
. (Kraal is Dutch for corral. They used to hunt sea turtles and corral them in this warehouse turned into a bar. Sea Turtles are protected since the 70's )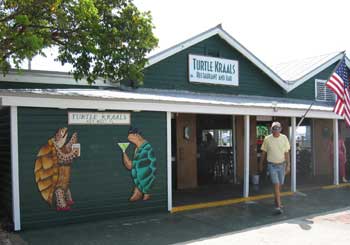 Ari and Abe dissapeared for a joyride and came back very drunk and very sunburnt. We were equally drunk by then.
We had a few drinks with Andy's friend Jay, who ran a charter fishing boat. This was the catch of the day.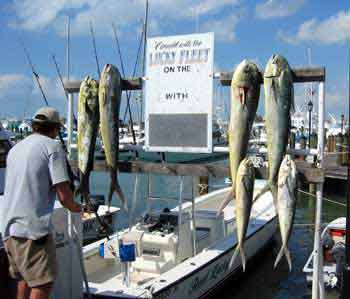 Abe then ditched us with the boat because he was drunk and the boat didn't have any lights so he had to go back. (Remember the many sandbars in the area).
We moved onto another bar where this little cuban guy was hand rolling cigars. They went extremely well with this beer from the Bahamas called
Kalik Beer
Met some cool folks from the NY Metro area. (They were wearing mostly black so it was easy to tell).
Another great day!
Friday, May 07, 2004
The next day the girls went out and got breakfast stuff.
There was a tree full of big ripe grapefruits right outside the ship at the marina. The skins don't look nice but were very tastey.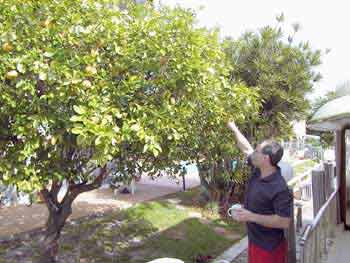 After breakfast, we went out on a quick ride down the channel. The houses here were straight out of the movie "Scarface". (We passed by Nick Nolte's house).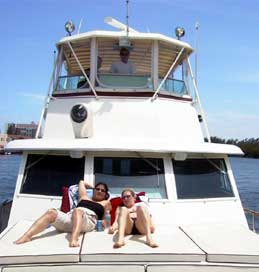 We stopped off at a restaurant for some snow crabs, conch and beers. This is the life.
Relaxed a bit and then headed down to Key West in the evening. Met up with Ari's friend Abe from Saginaw who lives in Key West.
The boys went out for a few drinks to a hopping bar off the main party strip, Duval Street.
Bumped into very drunk ex-girlfriend of Abe's who was screaming at Abe "You gave me
RINGWORMS!
while giving him the finger. (From that point on, Abe was called Ringworm boy for the rest of the weekend).
Thursday, May 06, 2004
Just got back from Ft. Lauderdale and Key West, FL.
Here are some photos...
We flew into Ft. Lauderdale, this is a shot of the beach.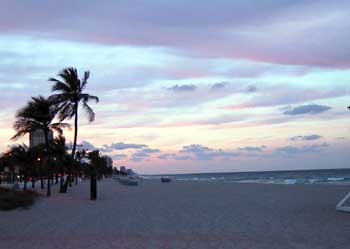 Me & Sarah arrived earlier than Ari & Etsuko
so we waited for them at the
Florida Taproom
, a great outdoor beer joint on the water.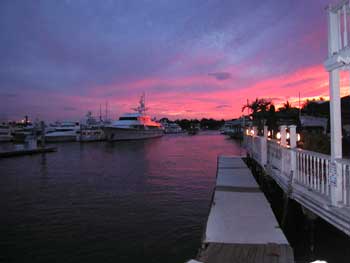 Group shot (L to R): Me, Sarah, Ari, Etsuko & Captain Andy.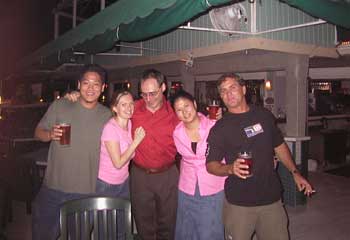 Andy runs a yacht called Ms. Patty - and we got to crash here for the nite.
(was expecting a couch or floor of someones' house - but we lucked out!).
Andy is also a lifelong Conch (a Key West native)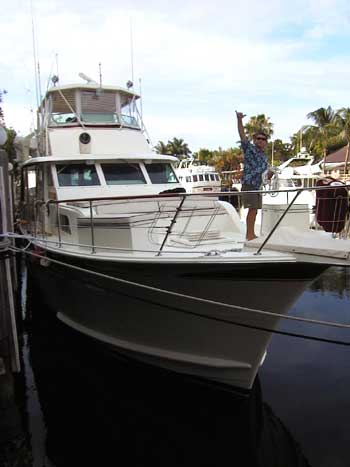 Wednesday, May 05, 2004
Really cool new use for the cell phone...

Basically, you "read" a hyperlink encoded in a barcode with a camera phone to connect to the internet. These hyperlink barcodes, called
SemaCode
exist in "meat space" for everyday use.
In San Francisco, they supposedley use it at bus stops for bus schedule info. The buses have GPS tracking units for up to the minute details.
A movie or concert poster could have a semacode link that sends the user to a ticket purchasing site.
This is a cool reason to justify buying a camera phone.
Well, besides
THIS
...
Tuesday, May 04, 2004
Monday, May 03, 2004
This handy website
BugMeNot.com
provides logins to those pesky websites that makes you register to view their "content" - NY Times in particular.
Saturday, May 01, 2004
Another weekend hike at Harriman State Park. We saw quite a lot of wildlife on this hike.
The area had a lot of cool rock formations and caves.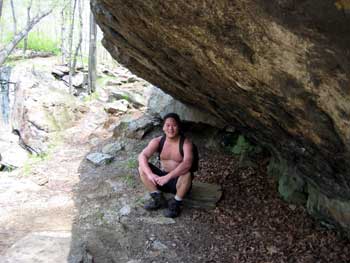 In one of the caves we saw a bat hanging out in the shade...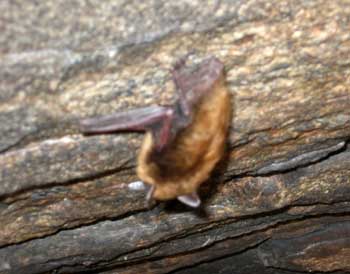 We saw a snake warming up in the sun.
It was a skinny brown thing with a black & yellow neckband.
(If anyone knows what kind of snake this is, drop me a line)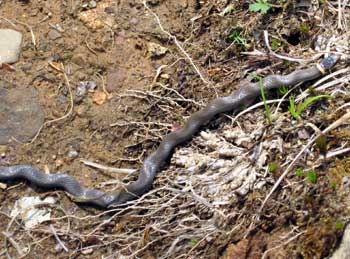 Update: Sent an e-mail to a Professor at the
University of Cortland
who informed me this was a
Northern Ringneck Snake
. It's a non-venomous snake that feeds on earthworms and small amphibians.
Ran into a lot of deer on the various trails.
Sasha even ran a turkey out of hiding in the brush.
Iggy would dive into every single water formation to cool off, weather a stream, puddle, swamp, lake, whatever, and Sasha would follow Iggy...
...then squat down and piss into every single one of them.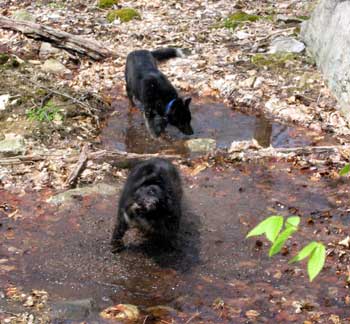 Had lunch at the lake. PBJ and Gatorade never tased so good!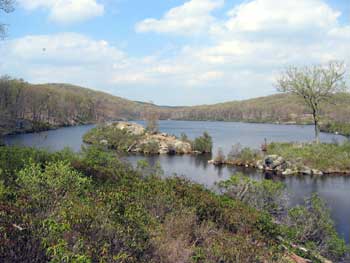 Frontline did a decent job again with the ticks.
You can
get some
for your dog or cat.